dm2
The Lakmé Absolute Grand Finale has always been a momentous end to five days of fashion, this year's finale pushed boundaries like never seen before and upped the grandeur quotient by manifolds. Gaurav Gupta, the Lakmé Absolute Grand Finale designer showcased his collection, that seamlessly embodied the theme of #DefineToRedefine inspired by Lakmé's beauty statement of the season. Reflecting upon the endlessness and expanse of the ocean, advanced diver and ocean lover Gaurav the whole Runway and AV set up was designed tomake the Look and Feel of an ocean . Models  walking on water and the LED set up showcased Life in an ocean thats why we used Seamless Ultra High Definition Edge LED Walls – Outstanding color depth and hue that interact perfectly, LED Cubes/LED Boxes with best in industry Led Controllers, Watchout Servers , Fibre cables, Console area , IT Equipments & shivam Video's own customised LED Hanging Systems . 
GAURAV Gupta's collection #Redefine harks back to his experiences at an advanced diving retreat in the Andaman & Nicobar Islands earlier this year. "I was unimaginably inspired," he says . He wanted to incorporate all of this in his stage Set Up.The Design Team aimed to change the concept of a runway finale by introducing a design interpretation that took birth in the ocean . Beauty of the Deep Sea was the theme for the Audio Visual Set Up  . AV Set-Up had to be immersive, unique, and one of its kind . Client wanted a waterfall Entrance Entry Concept and also the whole runway needed to be immersed in water . And through the waterfall , AV Setup had to be setup in a way , that the audience see it through waterfall  . Client also wanted the console area to be as far as possible and Required one of the best equipments in the industry to avoid any glitch . The Entry and Exit Area of the models , was Required to be setup through LED Walls because the the brand's purpose this time around was all about "embracing change and stepping out of our comfort zones and redefining life as we know it."  . Client asked for innovative led cubes & seamless cornered displays and Entry and Exit Gates needed to be setup through these LED Cubes. Plus the design team asked for the Whole Set up to be hanging .
Understanding the Requirement of the event – We used Bold Seamless 90 Degree Edge LED Wall with Seamless  Cornered Displays of Pixel Pich – 2.9mm , Resolution – 168*168 pixels , Cabinet Dimensions of 500mm * 500mm, Brigtness upto 2500 HZ, Viewing Angle – 160˚ (H) /160˚ (V), & Refresh Rate – 3840 HZ. All of Shivam Video's LED tiles were encased in bespoke aluminium frames designed to fit together seamlessly to create 3D LED Box shape and wall displays. The back of every panel  features a slot for an SEG fabric or a hard panel to cover the rear of the display, hiding  unwanted cables . We used a quick lock system and easy grip ergonomically designed handles to allow for an easy build and set up. The sizes of the LED –  Upper Triangles Left & Right size-8m*3m  , below triangles size left & right : 9m by 4.5 m . Center rectangle sizes – front side- 4.5m by 4.5m , left & right side -4.5m by 4.5m We created LED Gates of size 2.5m by 1.5m for models entry . The LED tiles were suspended for a flown LED design/Hanging LED System using Shivam Video's customised bespoke flying system. There were 2 Console area setup as the client wanted the console are to be as fasr as possible. Main console area was setup at a distance of 150m away, and second small console was setup behind the LED setup .  We Connected Fibre Cables from one tunnel to another . All the Fibre cables from console 1 were made into a tunnel and we used trussing to enroute the cables from one tunnel to another . We Used 4k Prime Sender All in One Controller with 6 Inpouts and 16 Outputs – for High speed digital performance connection without signal degradation. High End Watchout Server was used for the event .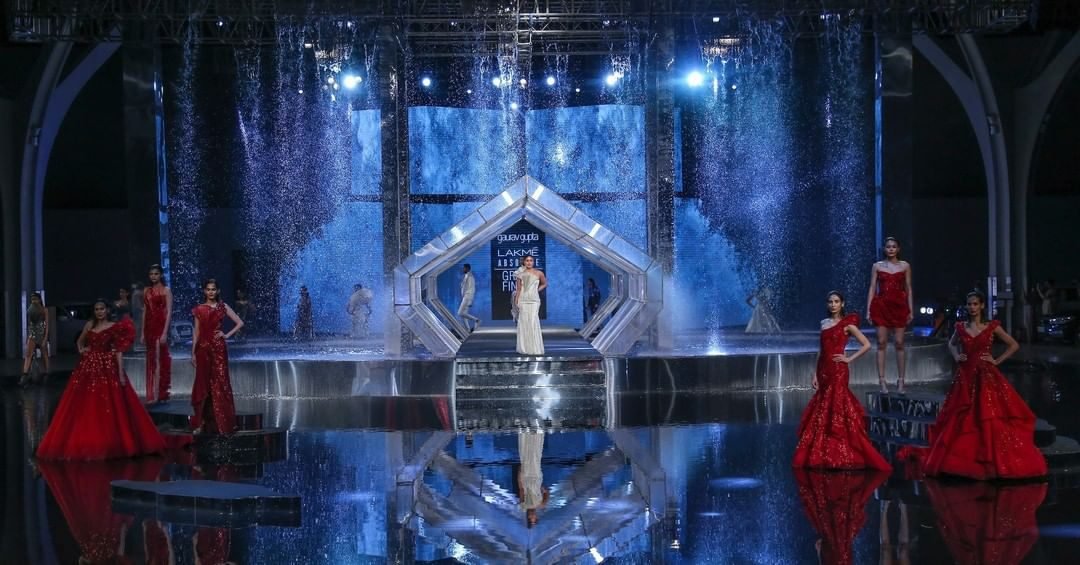 Lakme Fashion Week 2021 AV Set Up was one of the best in Lakme Fashion Week History. Audio Visual Set up for this event was a Challenging task . We had to be extra cautious with the power supplies , as waterfall concept was used and it was not that far from the AV set Up , even the whole Runway was immersed in water . Whole Set UP required 300 LED Tiles and each tile weight was 10kg . we had to hang 3000kg weight of LED Tiles using our own custom flying system  which was not easy . Designing LED Cubes of custom sizes according to requirement was also challenging.   It required special Skills, Special Technology and skilled employees. Total Manpower required for this event was huge as the setup was for many days . Setting up console area 150 m away from the AV Setup was once again a very challenging task as we have to enroute all the fibre cables 150m away which involved making of tunnels .  Ensuring that all of your cables are securely connected as console was far away , we had to employ extra manpower as loose cable or incorrectly connected cable can cause AV issues . We used three-hole socket with a protective grounding wire, a good grounding, and a grounding resistance <2Ω to ensure that the Visual Set up is not disturbed when encountering special conditions such as voltage fluctuation . We used Our Own Custom Active Thermal Management Technology for managing heat, as all the models entered and exit through the LED Cubes , which was quite a challenging Task . Client was so happy with the event and overall execution , they offered us Lakme Fashion week 2022 which we executed perfectly aswell .