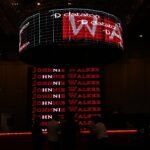 Circular LED Wall
       Features :
Pixel Pitch: 4mm
Resolution (pixels): 256 × 256
Cabinet dimensions: 1000mm x 1000mm
Brightness: 1000cd/m˜
Viewing angles: 140˚ (H) /140˚ (V)
Cabinet weight: 45kg/m˜
Refresh rate: 3840Hz
Max power: 6 Amp Per Cabinet
Best viewing distance: 3m
Description
Easy installation: The LED cylinder can be built as a self-supporting structure, or as part of a larger, more intricate design and is made up of four easy to affix 1m x 1m segments of flex LED. The cylinder can be created in a large circular formation, measuring up to 1.2m in diameter and 4m in circumference.
Curve formation: Its unique feature is the power to create a true curve with your content. Achieve a perfectly circular display without any facets, to create a 360-degree experience. As one of the tightest LED cylinders on the market, the LED cylinder offers a convex curve that is unforgettable.
Seamless design: Achieve a seamless and an entirely flush finish for an impressive circular display perfect in an exhibition, retail or conference environment. The LED cylinder works best when used as a close display or experience, with its fine 3.9mm pitch it offers a high-resolution experience.