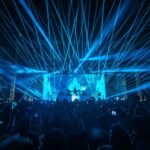 PL4 Pro Outdoor LED Wall
LED Configuration: SMD 1921 Black
Max Brightness Calibrated: 6000nits
Panel Dimension: 500*500 mm
Panel Resolution (H x V): 104 x 104
Front & Rear Module Mantainence
Edge Protection
Quick Swappable Power Box
Higher Image Quality
New Cabinet Frame
Waterproof Design
Hanging Bar & Stacking System
Curve Quick & Solid
Description
PL4 Pro Outdoor LED Wall is a high-brightness outdoor LED screen ideal for touring, sporting events, festivals, outdoor airshows and other outdoor event applications. This lightweight LED comes with the option to hang, stack, curve and edge, as well as easily transport from location to location, and create large-scale LED walls to remember.
Lightweight solution: lightweight and sleek ideal for creating large-scale LED walls at outdoor events or bold LED ceilings.
Ideal for outdoor festivals and concerts: Robust and weatherproof, PL4 Pro Outdoor LED is ready to take on the largest outdoor events, from festivals and concerts to sporting events and airshows.
Flexible and creative: The panel offers the ability to curve up to 15 degrees concave and 10 degrees convex, as well as build LED corners of up to 90 degrees.
High-resolution outdoor screen: It offers a high resolution display that can be seen up close and far away.